Cruise weddings are a huge trend right now, with a majority of popular cruise companies offering wedding cruise charters and wedding cruise packages, keeping in mind the traditional cultures across the globe. But why are they really a thing now? Planning a wedding is a stressful task, and rich urbanites are often seen combining their cruise holidays with their wedding holidays, making it an unforgettable occasion for bride, groom and guests alike. It is often believed that a married couple's first trip sets the future direction of their life, and if that is somewhat true, cruise weddings surely sets a permanent stage of intimacy, laughter and happiness.
Sure, a partners can have their personal reasons for choosing a cruise wedding, but usually a lot of people choose to perform a cruise wedding due to the limitless choice of venues, cuisines, beverages and more. And if that is not enough, below-mentioned are the reasons as to why cruise weddings are a big thing nowadays.
#1 Cruise Weddings are Cheaper
Planning your dream wedding is pretty expensive. According to U.S. statistics, the average cost of a traditional American wedding is approximately 30,000$ USD, whereas all-inclusive cruise weddings only start from 790$ USD. No matter how extravagant, you can end up saving a fortune.
#2 It is a Two-in-One Deal
Cruise weddings are cost-effective. Since you are already on your favorite vacation destination, you do not have to worry about booking a hotel room, transportation service, or even a full-fledge expensive honeymoon. You can get cozy with your significant other on any nearby island. It is a win-win.
#3 You do not Have to Go Through a Planning Breakdown
A cruise wedding provides the answers to your planning questions beforehand so you do not have to stress about planning a wedding on a distant island. You do not even have to worry about your guest's hotel rooms, your florist pulling through or about the quality of food.
#4 Cruise Wedding Professionals Help you Throughout the Event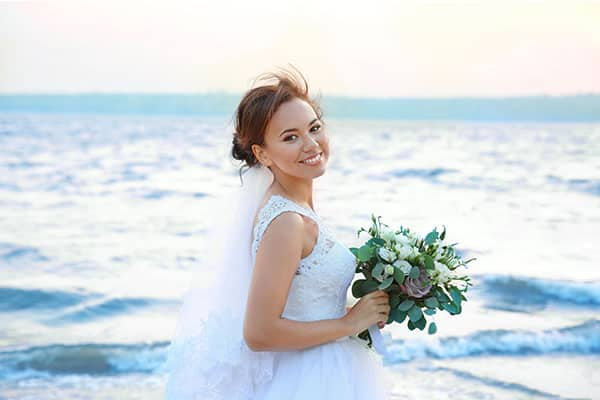 Say farewell to your wedding planning as leading cruise lines across the globe offer committed and knowledgeable wedding planners to make the occasion perfect for you. They handle everything from your desired cake to a professional photographer to a breathtaking location and more.
#5 Wedding Celebrations May Last Over a Night
Get amused by the opportunity to lengthen your wedding celebrations over the entire length of your cruise holiday. You do not have to worry about getting kicked out of your local venue as soon as the clock strike 10 p.m. You can celebrate your love at every beach, port and harbor across the island.
#6 There are a Variety Wedding of Packages
Depending on your chosen wedding charter company, your selected venue, the number of guests and other criteria, you can go for a bang in just a few bucks. These packages may enable you to select your required perquisites such as a photographer, a bouquet, music, drinks and more.
#7 You Can Enjoy a Tailor-made Package
You can easily customize your wedding package and add a few personal touches here and there to make it more convenient and attractive. You can make your big day as unique as you are by tailoring a few basics such as a theme song, a theme color, your favorite flowers etc.
#8 Get Married On-board or On An Island
On-board wedding nuptials are pretty romantic and straight out of a fairy tale. You may ask your captain to perform the wedding. Or choose your favorite island destination and get hitched under a vast blue sky. Alternatively, you can request for a live broadcast if your family is back home.
#9 Your Guests can Have a Holiday
A cruise wedding provides your guests with countless options to enjoy a holiday. They get to sail with you across the luscious beaches and turquoise waters, and indulge in their favorite activities such as swimming etc. You may even get a discount on your hotel room if you bring a few guests with you.
#10 Rent your Favorite Formalwear
A wedding straight out of a fair tale deserves complementing outfits as well. You can pre-order or request your favorite formalwear on rent and receive them on your big day in your measurements. Or you may ask the professionals to select one for you.
Sounds amazing, right? Get Hitched with Sail Jester Now!  Looking to plan a cruise wedding? Confused by the options? Look no more! Sail Jester enables you to celebrate your dream wedding on your favorite island destination or on-board within all-inclusive and competitive packages.